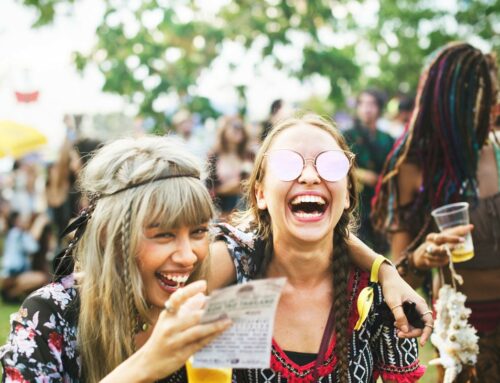 "NO BURN NOTICE at the campground!"
That's the text I received recently as I was packing up my Jeep for a weekend trip with some of my oldest friends and favorite people. It's been super dry here in the South and they vetoed open flames in our campground, but we didn't let that stop us – we improvised with some multi-colored Christmas lights and stayed lit up like a Mexican Cantina, even in the middle of the woods. In reality, we probably appeared one shopping cart away from looking like a homeless camp, but a Cantina is exactly what we were as we served camp tacos and homemade guacamole. It was a very low key evening, and we all laughed at how much we, and our lives, had changed in the last decade.
I'm pleased to report that I didn't vomit, eviscerate anyone, start a fight and/or spew vitriol, get us kicked out, or lie and repeat myself constantly. I was able to help out (somewhat, I mean, don't get me wrong – I'm sober now, but I'm still incredibly lazy) with dinner and clean up and since I used to pass out waaaaay before everyone else, it was really novel to cognitively say goodnight to the gang and retreat to my tent to giggle with my pal Jess. Of course, five years ago she'd have been voted fucking nuts for sharing a tent with me. Not only do I remember the entire evening, it occurred to me while gazing around our circle and sharing stories and laughing under the hot and sticky southern sky, that THIS was the "high" I was chasing, all these years. This was the connection I so desperately longed for, and I was able to be present and appreciate each and every moment. I was a ridiculously happy camper.
There were certainly some robust recollections of what I like to call "Jen's Greatest Hits" and of course, no one had forgotten any of them, but thankfully, they had forgiven them. Some were even pretty funny – those before I went dark and vacuous via my alcoholism, before I became a hateful void. I'm happy to say that the kindest compliment I received was from my bestest pal, Jess – as we were packing up and I was prattling the next morning, she looked at me with smiling eyes and said, "you're a lot lighter", and those simple words are still resonating with me.
Living in the moment and appreciating the present are touchstones of my recovery. I've wasted too much time on regret and shame in the past, and on anxiety and fear for the future. One thing I do repeat constantly is that right here and right now is all we have. You know what else I have? A kick-ass group of friends that have supported me, and cheered me on from the start. They were there in the darkness and I'm so very grateful they stuck around for me to find my way back to the light, for it took a long, long time. Some days are harder than others, but I try to choose it, if at all possible. Choose the light. Choose happiness. Choose kindness. Choose forgiveness. It's not always easy but most days it's worth it.
I don't imagine my pals thought nearly as much about my camping comparisons as I did, or at least I sure hope not. That's the thing with true friendship, you know…you really can't scare them away, and for that, I'm forever grateful.
Thanks to all my fellow campers and for being there, listening and laughing with me, AND at me, and for always having my back. Even when I was passed out on it.
And thanks for never ONCE shaving off one of my eyebrows.